Requirements to the Visitors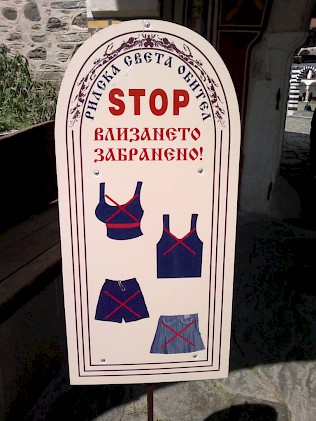 Dear guests and visitors,
During your visit and stay on the territory of the Rila Monastery, with a view to observing the established church order, we kindly ask you to follow these rules:
It is not allowed:
- to smoke in the Monastery Complex;
- to enter in the Complex with improper attire: short skirts, shorts, vests, and all other kinds of skimpy outfit;
- to take photographs and videos in the church and in the Monastery museum;
- to go upstairs on the floors of the residential buildings;
- to make noise, as well as enter with pets.
Inside the church:
- you must observe silence by all means;
- men must enter without hats;
- it is forbidden to enter with perambulators, tourist backpacks and other kinds of bulky baggage;
- when we pray in front of the icons, or in front of the chest with the relics of St. John, we should not place our hands onto them. The holy icons, as well as the relics, are honored only with kissing;
- the lit candles are not held in hands, but they are placed in the appropriate places: the low candelabra for the departed, and the high candelabra for the living;
- it is not accepted to sit in the church with crossed legs, to keep hands in pockets, as well as to use mobile devices.
Thank you for your understanding!